Tailored Artworks - Space Transformer
Individualise your home with meaningful art built-into its environment. Plan the completed feel right from the start! A themed decor lovingly imbued by our unique range of products will flow inside and out, infusing your home with colour, style and personality!

We make your new build, renovation or decorating project much more straightforward as a collaboration of Building, Landscape, Pool and Interior Designers. We work to the one end vision inspired by your Tailored Art designed by artist and decorator Sharron Tancred. We are also launching our new Mural Shop for custom printed murals delivered to your door! Put heart into your space with:

• Hand-painted and framed artworks on canvas
• Hand-painted Murals
• Haymes Artisan effects for stunning textures
• Printed art as Splashbacks, Tile and Glass Murals
• Moveable Outdoor Murals
• Mood Boards and Interior Decorating
• Themes for Residential, Corporate, Aged Care and Dementia

Come and meet Sharron Tancred from Tailored Artworks, Dave Russell from Urban Design Solutions and Alistair Holland from Everscapes at Stands I18. When you talk with design professionals who have the insight, skills and experience to deliver your individualised home designed to impress and feel complete, you will know that you have found your team!

Make an enquiry
Special

- WIN

2 hours on-site art your place - Receive a Colour Wheel each - Learn the rules of art and decor - Receive a free Queensland Homes
Entrants will be entered into our e-newsletter.
Conditions
Offer valid at Home Show only. Extra time on site at $90phr
More information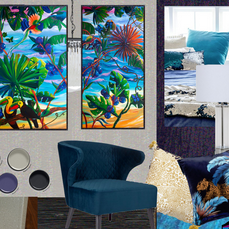 Special

- GET 50% OFF

Save 50% when you pay only $192.50 for a 4 (Four) hour Art and Decor Planning Session with Sharron Tancred. Normally worth $385.
- A full problem-solving session to unleash your personal style and create a plan inspired by art and your home's best existing features.
Conditions
Home Show special is 50% off at the show only. Sessions are held at your location, Brisbane wide. Extra hours are charged at our hourly rates.
More information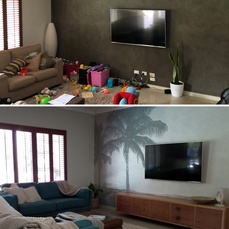 Special

- SAVE $367.50

Save 50% off a Reorganise Your Home Decor to Wow Day Session!
Let's move your furniture, art and accessories to the rules of interior design.
to help you de-clutter and start re-styling your home for maximum happiness!
Conditions
Up to 7 hours on site. Sessions normally $735. Offer valid at Home Show only. Extra hours at $140ph.
More information