Double Glazing Masters - Windows & Doors
Double Glazing Masters, Queensland's Number 1 Double Glazing Specialist.

Manufactured in Brisbane, we supply and install high performance double glazed windows and doors.
Reduce sound by up to 70% while making your home more energy efficient. Established homes or new build is our speciality.

Switch to Double Glazing Today | Windows & Doors from Double Glazing Masters, provide a whole host of benefits to Queensland & Northern New South Wales Residents & Businesses alike. Replacing your Single Glazing with our Double Glazing will not only be Aesthetically Pleasing but also provide you and your family Thermally & Energy Efficient, External Noise Reducing and Highly Secure Windows & Doors. No matter what the reason you want to switch we have you covered.

We offer FREE No Obligation Measure & Quotes. Chat to us at the Brisbane Spring Home Show!
Make an enquiry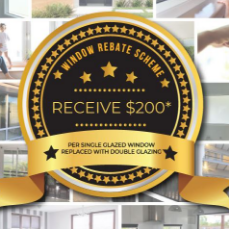 Special

- Double Glazing REBATE ! up to $200 REBATE for EVERY Window Double Glazed!

REBATE - Receive up to $200 for EVERY Window or Door Double Glazed. The average homeowner receives $2,500 REBATE. Hurry offer ends soon!
Conditions
For new orders show special. Not to be used in conjunction with any other promotion. See website for details.
More information