BJC Painting Services
Beautify your home by painting it inside and out. Increase its worth by making it look brand new again. Modernize your home to follow current colour trends or pick timeless classics. You can even go bold and choose colours for more depth and texture in your home. It's not just the colour that's important. The type of sheen you choose is vital as well. Choose from the great selection of high quality brand paints we use. From high gloss to matte, you can decide the sheen for each of your walls. Our experts can help you narrow down the endless selection of paints that best fits your home painting projects.

If you're unsure about certain colour choices and how they will look on your walls, we can help you sample them and test them out first to get a better idea of how they will really look on a wall instead of just looking at a small swatch sample and guessing what the final look will be. That way you'll have no costly regrets over your choice of colour. As for paint design, we can do different paint patterns of your choice like stripes or textured painting. Whatever the paint effect you're looking for, our team of talented Brisbane painters will do our best to fulfill your requests.

Paints for the exterior that we use are specifically made to withstand the outside elements like UV rays from the sun, wind, rain, and hot or cold temperatures. High quality exterior paint will last for years and provides great coverage.

You can leave all the prep work to our team. This is usually the biggest job of all when painting. The better the prep work is, the more efficient the painting will be. We will tape off needed areas for sharp lines. We will move and protect furniture and the surrounding area. Power switch plates and knobs will be removed so that no paint gets on them. If we see any holes or dents in the wall, we will fix and patch those areas before painting to get a seamless finish. You'll be amazed at how good the walls will look after we finish with them.

The exterior paintwork prep will mean getting rid of dirt and grime that has collected on the surfaces of the exterior. Any broken or rotten parts of your exterior will also be fixed before any paintwork is done. Any chips in the paint or rough areas will be smoothed out and sanded if needed. It will be best to do the exterior at the driest time of the year and when the exterior is completely dry. The surroundings around the exterior will also be prepped for protection from the prepping process and from straying drops of paint.
Make an enquiry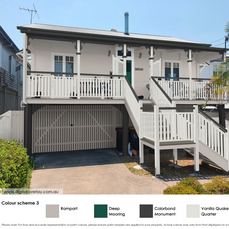 Special

- Free

Free Colour Consultation and Free Digital Overlay
Valued at $400
Conditions
Offer is only valid on accepted quotes
More information