SAVE on your build or home reno with the eShowbag. Packed full of savings, specials and chances to WIN! Click here to print all specials » or use the check box on each special to select your favourites and then click "Print selected special" at the top or bottom of the page.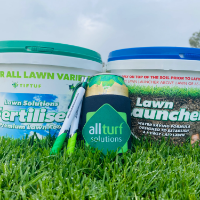 OFFER
Lawn Starter Pack
Receive the following items for free when you purchase your new lawn!
- 3kg Lawn Launcher to help give your new lawn the boost it needs!
- 4kg Lawn Solutions Fertiliser for your new lawns first fertilise!
We are also throwing in a free stubbie cooler & pen.
Mention Brisbane Home Show to receive offer.
Valid to: 31-Oct-21
Conditions apply.