SAVE on your build or home reno with the eShowbag. Packed full of savings, specials and chances to WIN! Click here to print all specials » or use the check box on each special to select your favourites and then click "Print selected special" at the top or bottom of the page.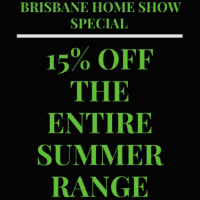 SAVE!
Save 15% Off of your total price
Save 15% off if you choose our Summer range. Includes summer 30, summer HD and summer breeze.
Mention Brisbane Home Show to receive offer.
Valid to: 3-Apr-22
Conditions apply.