SAVE on your build or home reno with the eShowbag. Packed full of savings, specials and chances to WIN! Click here to print all specials » or use the check box on each special to select your favourites and then click "Print selected special" at the top or bottom of the page.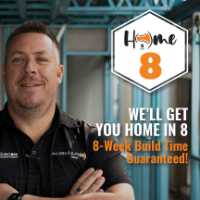 SAVE!
Homein8
At Ausmar Homes, we understand the time taken to get your home completed is one of the most important factors in making the decision of who to build with and whether or not to build at all.

So, we've created Home In 8. Our build solution that will get your home built in 8-weeks.
Mention Brisbane Home Show to receive offer.
Valid to: 30-Jun-21
Conditions apply.